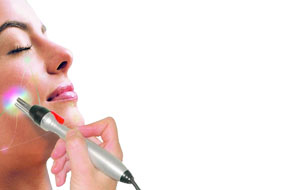 Energy Light Rejuvenation Facial (ELR)    $188  (90 minutes)
ELR facial is the latest skincare technology trend, developed from eastern ancient healing traditions using acupressure points, herbal blend to bridging with Western technology combining Microcurrent with Therapeutic Light & Color (TLC).  This one-of-a-kind revolutionary rejuvenation treatment encourage collagen production, smooth fine lines & wrinkles, firms skin tone, improve skin texture, diminish blemishes, minimize puffiness WITHOUT SURGERY, needles, redness, flaking, downtime or discomfort.  You'll feel and see the benefits of ELR after the first ELR facial.  Noticeable results generally occur after three treatments. Dramatic transformation of Inner Balance & Outer Beauty results after 10 

treatments

.
Bio-Feedback therapy for Health Diagnosis  $180.00 (60 minutes)
Through Bio-feedback and traditional Chinese medicine (TCM) diagnosis, the practitioner is able to determine their root cause of illness. Once diagnosis is established, a treatment strategy will be set up for the individual patient for their healing journey.   Health is a result of harmonious balance between the physical, physiological and psychological aspects. 
If you are a patient that had a long history of illness without success

ful

 result

s

, this one is for you.
Rosacea Treatment
75 min ea $88 up
Once the skin has been properly cleansed, a special serum, combined with a unique massage technique, is applied to balance out problem areas. Special Rosacea botanical masque will be applied to repair Rosacea problem. You will be given a home care program to arrest these problems.
Pre & Post Operative w/oxygen Infusion 
75 min ea $98 up
Pre-Operative: Prepare your skin for minor operations or laser resurfacing. Strengthens the skin tissues and collagen to aid in faster recovery. Post-Operative: Speed recovery process and minimize discomfort.
Acne Facial Treatment
90 min $98 up
Weekly visits are required to speed up healing process. Skin analysis, life style change consultation and home management program. Depending on the severity of Acne, client may require more than one package.
Skin Lightening/Hyper-pigmentation Treatment
90 min ea= $98 up
This treatment combines the Lactic Peel, Ultra Sound and LED Therapy Treatment with an additional skin lightening vial added to the Enzyme Masque at the beginning of the treatment. This will aid in speeding up the lightening of any hyper-pigmentation problems, blotchiness, red or dark acne marks and dark spots caused by sun damage. There is also a special Home Skin Lightening Program designed for the client if faster results are desired.
Weekly Peels–AHA Peel
30 min
Pumpkin/Mango 30 min
Lactic Peels 40 min
Herbal Peels 75 min
Home Care Prep is necessary before any peel procedure
Acne Facial Treatment
90 Minutes $138
After careful skin analysis, a customized program will be set up for individual need. Treatment protocol includes a variety of exfoliation technique, extraction, light therapy, nourishing and repair to the epidermis and dermis tissue to eliminate scaring and skin staining. Great results and many happy past clients.
(add to any facial)
Microdermabrasion plus Cold Gel Face 15 min $50
Throat & Décolleté 15 min $50
Combined 30 min $90
Ultrasound DNA 15 min $50
30%-50% AHA/Glycolic Peel 15 min $40
Pumpkin or Mango Peel 15 min $40
Chinese Herbal Peel 15 min $30
Super Cold Freeze Mask 15 min $20
Cold French Algae Mask 15 min $20
Ampoules 15 min $20
Oxygen Infusion 15 min $35
Moor Mud 15 min $20
Eye Treatment 15 min $25
Hand Treatment 15 min $20
Foot Reflexology 30 min $40-50
Foot Treatment, Herbal Whirlpool Bath, Exfoliation, Warm Paraffin Wax and 10 min Foot Massage 30 min $40-45
Oriental Wellness Offers Discounts
Discounted prices available only with purchase of any facial at regular price.